Welcoming Lt. Jyoti To Shigally Hill International Academy
On 23rd May 2022, Shigally Hill international academy was visited by a person whose life story is just as inspiring as her name. At 12 noon the program has begun, with Lt Jyoti Nainwal as the chief guest. She was accompanied by her mother, two children, and Capt. Anurag.
The event started with the Director welcoming her with a bouquet of flowers, followed by a Saraswati Vandana dance performance by the school dance troupe prepared by Ms. Prachi Neeraj. After that, the school Choir with their melodious performance welcomed the chief guest.
It was further followed by a short visual presentation of Lt. Jyoti's Struggling yet inspiring journey which showed how, courageously she coped with the loss of her husband's life, Shaheed Deepak Nainwal, who gave his life in a terrorist encounter, an act of selfless love for the nation. It also showed how she is a mother of two kids, chose not to give up but give a better life to the children, and follows the path of her husband, choosing to serve the nation.
The program also had an inspiring speech by Lt. Jyoti and Capt. Anurag. Where they shared how it is to be a person who serves the nation. Later the daughter of our Chief guest recited a self-composed poem, with the theme "My Father". She expressed how proud she was of her father's esteem sacrifice and also how much she yearns for his presence. The way she recited it left the audience in awe and teary-eyed.
The program was culminated with a Vote of thanks by the Principal, Mrs. Anjana Kapoor followed by a Q&A session where Simran, Priti, Reetisha, Sonam of Class 12th, and Raisha of class 10th asked questions to the Chief guest about her life and career.
The event was anchored by head girl Arpita Gautam.
Best boarding girls school in india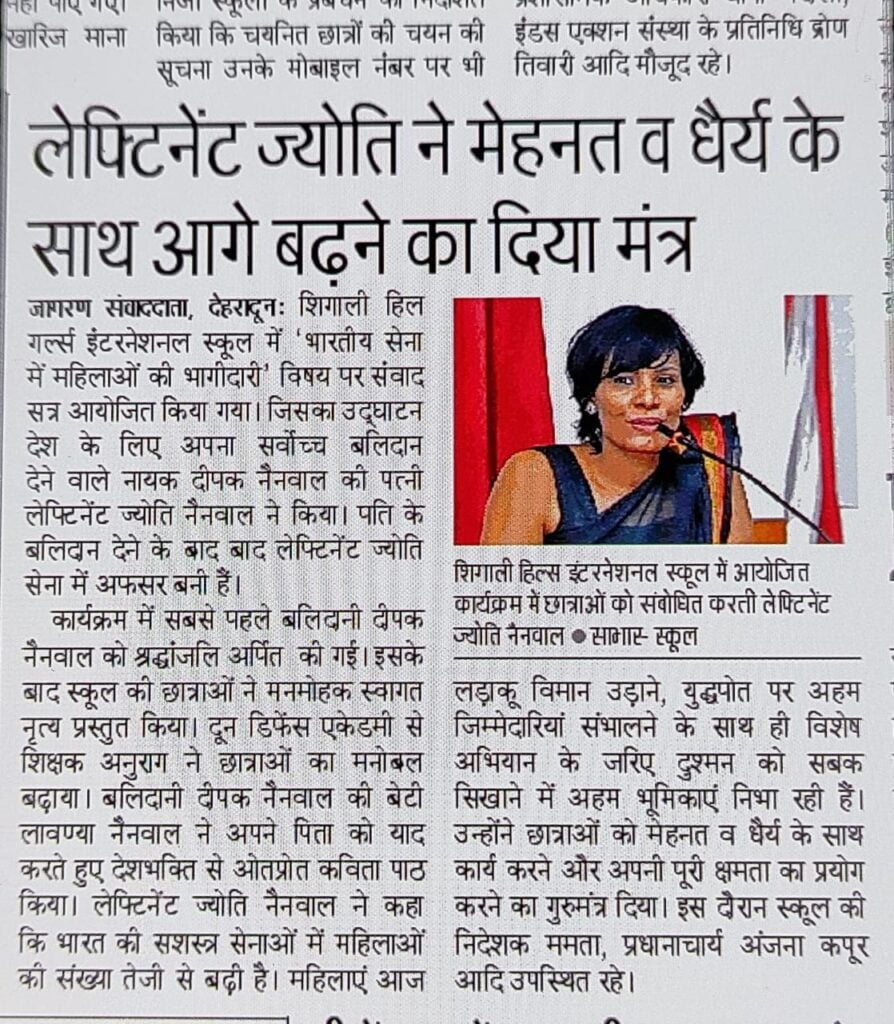 Best Girls Boarding School In Dehradun